How To Get A Side Hustle On In Just Little Over A Month
Photo by Dragne Marius on Unsplash
Life is filled with lots of different positive experiences that can help to shape your personal path if you allow them. Recently I have encountered an experience that was so interesting that I knew it required its own personal blog post. This post will breakdown how a simple idea went from a basic concept to a small side hustle business in a month and a half.




The Idea is born
According to Elizabeth Gilbert's novel "Big Magic" Ideas are omnipresent; they just need a suitable and patient host to bring them to life. It was late one Sunday night when I received a call from my boyfriend, letting me know how great of a time he had at a family dinner he attended that night and that he had an idea he wanted me to be open to, I stood still for a moment while he explained. "I think I would like to have a vendor booth at this years Labor day parade" I was in shock, the parade was less than 2 months away and even though I have never tried anything like that before I knew it meant a lot of work. "We can make jerk chicken and rice ect", "I'm sure people will buy that stuff right up" . I thought about what my response would be carefully then I replied "ok", "sounds good" and the conversation ended there. I figured the idea would have eventually made its way to another host soon enough but boy was I wrong.
Write Your Idea Down
It only took a week for me to realize that this idea had settled in and was now playing house with us, I started to detect that my boyfriend was becoming very passionate about the idea and it wasn't long before I decided to join his cause and got to work. I had no idea what I was agreeing to take part in but I decided to take the leap with him. We wrote the idea down, then began to evaluate what would be the best way to approach each task that we had to complete. How can people that have not been to the Labor-day parade in years create an effective plan on vending? were we in over our heads? absolutely.
Do The Research
We decided to do our research and immediately ran to YouTube. We watched countless videos on how to make the perfect Jerk chicken, first of all we would need an expert, a chef that has countless hours of jerking experience. Then we quickly realized that if we need a chef, we have to prepare to pay a chef, "but we have no money" I kept reiterating, eventually my boyfriend replied "we need investors" I was stunned at his seriousness. Wow, I guess this is really becoming a business right? After we had a few discussions and consulted some knowledgeable family members, one of his sisters aided in solidifying the menu. We would be selling roasted corn and refreshing lemonade. We were ecstatic, everything we had decided on was easy to obtain, low effort to prep and was reasonably priced, profit was inevitable.
Fine Tune The Details
Once we had figured out exactly what we wanted to do, the next step was deciding how we were going to do it. The "business side" of vending was becoming tedious as we reviewed the strict and specific requirements of the WIADCA permits, certifications, insurance were just a few of the required documents that were mandatory in order to proceed with our now beloved side hustle. Tensions began to grow as my boyfriend and I struggled as responsibilities piled, I must admit it was not always an easy journey as our relationship was now meeting a new and sudden challenge and it was clear that this business would have a lasting impact on us. We decided to keep pushing, as his cousin confidently decided to join the band wagon of crazy. Two was great but the power of three was undeniable, we welcomed him and his creativity as we ventured into branding and marketing territory. He would also try to make us a banner that best represented our business, "Justcorn" - a name that arose from a playful moment had now became our official slogan. We were established, at least in our minds we were, the plan was now to produce enough corn and lemonade to feed 400 people, we opted for 3 different butter options - Jerk butter, Sweet butter and Garlic herb butter. We tested each butter until the recipe was just right.
After all the butter details were perfected, we then decided to order any additional equipment needed, it was two weeks before the event and I was nervous. To rent a tent or to buy a tent? that was the question, the debate went on for days until we realized it wasn't a bad idea to consider it a long term investment so we ended up purchasing it. With a few days to go we had all required documentation, all ingredients to make our final product were listed and ready for purchase, We had rented a U-Haul van to transport us back and forth from the site, we had borrowed anything that we could from family members, tables, chairs, coolers, a grill, even a hammock managed to make its way on the trip, no I am not kidding. We all decided to dress in all black since its simple and everyone has something black.
Execute
Its 4 am September 3rd we are up, prepared and ready to execute our plan. Our team of now 4 people, my mom also decided to come along for the experience (hey mum) had assembled and had located a great spot close to the Brooklyn museum to set up shop. After organizing our booth we were approached by a health inspector who confirmed that everything was looking well and recommended one small change in our set up and we quickly obliged. I observed across from us a lemonade booth and next to it a corn booth, I immediately decided to investigate our competitors. With my shades on I slyly approached each vendor to inquire the prices of their goods, then ran back to inform my team of my findings. It turned out that our Lemonade price was identical to other vendors however, our corn was priced slightly higher, we then made a decision to lower the price to match the competitors.
After waiting around for an hour, our first real customer showed up around 11 am, a man requesting lemonade, my heart was beating extremely fast as I asked regular or strawberry? I honestly don't remember his selection, I just remember receiving the payment and thinking that the momentum has started building and I was delighted. We had a few friends and lots of family stop by to give their support and share our excitement, one woman even said a prayer for the business. We were approached by someone asking us to show up to a different event to sell corn, and the one that blew my mind - a customer asked "where are you guys located", we were officially in business and our booth was getting posted and shared on social media and it was amazing.
We kept a moderate pace with customers until around 3 pm when we noticed a slight increase in corn demand, by then we had become a team of 5 as my boyfriend's niece joined the festivities, she was fast learning and swift to keep up with the building corn crowd. Everyone played their part and the hustle was bustling, eventually the crowd slowed down and we were exhausted, but the break was merely the eye of the storm. Before we knew it they were back requesting our corn, but the parade was coming to an end and the police was already informing other vendors to start packing. We started roasting and cooking at a rapid pace, customers were being patient and we felt obligated to perform.
The police showed up several times and we then realized that it was time to let it go. We waited for a few hours for the streets to clear then began packing up. We had a few left over crates of corn that concerned us but we were so tired and hungry that we could only think of sleep.
Check in with your goals
After we returned the U-Haul we dragged our tired bodies home to count the earnings of the day. After we subtracted our expenses and payments to people that had contributed to our business, we realized that we had just broke even. After all the work and planning we had only broke even. We were devastated. We began to think of all the things that went wrong in the process. We had spent too much, products went to waste, we had lowered our price, we were not prepared for the surge in demand towards the end of the evening, it was long day and an even longer and more disappointing night as we kept recalling each mistake we thought was significant enough to be mentioned then we went to sleep brokenhearted.
Gratitude
We woke up the next day to a plethora of phone calls and text messages from family and friends letting us know how proud they were of us and how well they thought we did. Our parents were extremely happy with the time and effort that we put in. We explained to our parents that we were not very happy since we only broke even and they all gave similar advice to us, "breaking even is way better than suffering a loss" as this was our first time doing something of this magnitude starting with only 3 people, it was more of a success story than we realized. Before midday people were already asking about next years event and suggesting other vending opportunities. This is the moment that we finally comprehended what we had really gained from this project. We had received knowledge and experience that we couldn't have learned elsewhere. We now understand what it is like first hand to run a business and make mistakes and we will be so much better next year because of it.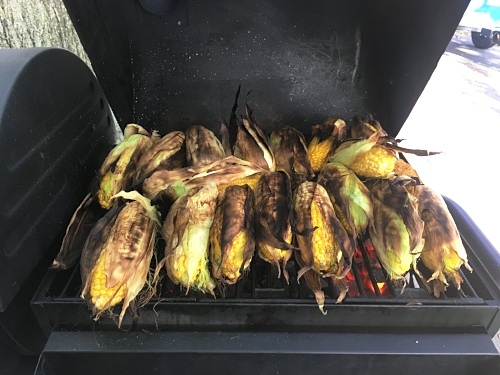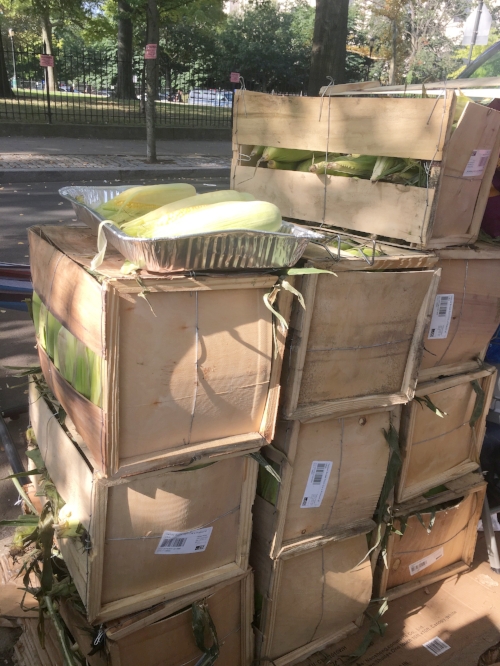 Corn jumping out of the crates